The Shrimps (21st) vs Ipswich Town (9th) Preview & SWOT Analysis – 26th February 2022
Match Preview
What a turbulent week this has been, not just in the football world but in the real one, as well. It may seem a tad disrespectful to be getting excited about a game – any game – at a time like this, but however trite it sounds, life does go on. I'm sure I speak for many when I say our thoughts and prayers are with the people of the Ukraine.
To the matter in hand, today could be seen as a 'return' to some unfinished business. Derek Adams is back, Steven Robinson has gone after being poached by Saint Mirren.
It was certainly an extremely difficult pill to swallow having Robbo abandon ship so early into his three year project earlier this week – just eight months after taking the job. For what it's worth, I felt disappointed mainly because I could see the greenshoots of something special developing. It wasn't to be.
Fortunately, Derek – having recently been relieved of his duties at Bradford City – was ready to step in. He has since talked of essentially making the wrong decision to leave The Shrimps for The Bantams and is delighted to be back in the manager's seat at The Mazuma.
I personally don't hold any negative feelings towards him from when he left us for Bradford. He took us from the bottom of League Two in November 2019, to promotion via the playoffs in May 2021, which is one of the most underrated achievements in EFL considering The Shrimps had one of the lowest budgets in the whole of the EFL. He more than completed what he came to do – albeit with a year spare on his contract which City ended up paying compensation to gain the Scotsman's services.
Derek's job is very simple. He has thirteen games remaining to close the two point gap on 20th position and keep us in League One. The reality is, he has a free hit. If we were to go down, all eyes will be on the coach who left his post prematurely. If the new gaffa can maintain third tier status, he'll be seen as the White Knight who came in and saved the day.
Today's opponents have also gone through a managerial change the season when Paul Cook was dismissed to be replaced by ex-Manchester United assistant 35 year-old Kieran Mckenna.
So far he's been a roaring success with seven wins from eleven and taken Cook's 1.36 points per game from 28 games to 2.09 points per game.
To get the lowdown on what's been going on at Portman Road and in-depth analysis of the game ahead we have Joe Fairs from Blue Monday Podcast, Oscar Stanley from ITFC Analytics and TWTD.CO.UK writer Thomas Lane. 
So what are they expecting from this game? The opening day fixture was an open affair. Do they envisage more of the same? 
Joe,
"It's hard to know with the change of management at Morecambe what to expect from that end, but a Kieran McKenna Ipswich side is beginning to find an identity. Heavy possession based side, very well organised defensively but sometimes struggle to break the opposition down if they look to play defensively rather than push on.

If we get to the 14th minute of the game without conceding it will be a new club record for not conceding a goal (we currently haven't conceded a goal for 534 minutes and only conceded 4 in 11 games since McKenna took charge)

So effectively I expect us to dominate possession, but for the game to be quite cagey and tight."
Oscar,
"Certainly expecting a tough game between the two teams, not sure it will be as open as the opening day fixture with our change in manager.

Both teams have been underperforming their xG recently so wouldn't be surprised if one/both teams make the most of the chances they get in the game.

Can definitely see a game where we control the ball & struggle to break you down, getting the first goal & early is very important for how we play."
Thomas,
"The complete opposite to be truthful. Under Paul Cook, we had attacking flair with a weak underbelly, turning over possession on countless occasions and causing four-on-four attacks on our defence. The tie at Portman Road is the perfect example. Both goals came from defensive mistakes, which have been eradicated since Cook's departure.

We don't have as many attacking chances under McKenna as we did under Cook, but it does feel like each attacking attempt has more likelihood of resulting in a goal. The switch from a rigid 4-2-3-1 to a fluid three-at-the-back formation with multiple style changes going forward has made us more unpredictable."
Shrimps' Selections
Just as I was getting to grips with Robbo's selections, he's only gone and left!
I've spent the last couple of days going back and forth as to how I believe Derek will set up, reminding myself of how he organized our promotion winning side in 2020/2021 and trying to anticipate what changes he will make to the current squad.
Not all of our fanbase will agree with me when I say that I believe we've deserved more from the last four games. The words 'expected goals' drive chills down many, but for me, over a sequence of games, it's a good indicator of how much you're knocking on the door. If you keep knocking on enough doors, eventually someone answers!
Over the last four games, we've had an average of 1.95 expected goals for and 0.93 expected goals against. However, we've only scored three, conceded six and picked up two points. As I will maintain, expected goals will not keep us in the division but does give an insight into future outcomes if performance levels are maintained i.e. you shoot enough times from good positions and eventually they go in the net.
With that in mind, I envisage with only thirteen games to go Derek will look to build onto the positive aspects of recent performances and tweak to optimise – instead of revolutionising. He has said as much in his re-introduction interviews!
Two players I believe he will bring into the XI are Aaron Wildig and Adam Phillips. Both were instrumental in Derek's successful side last year – albeit Adam left on the last day of the January window having scored eight and assisted six in twenty five League Two games. Wildig scored ten and assisted seven in forty six games.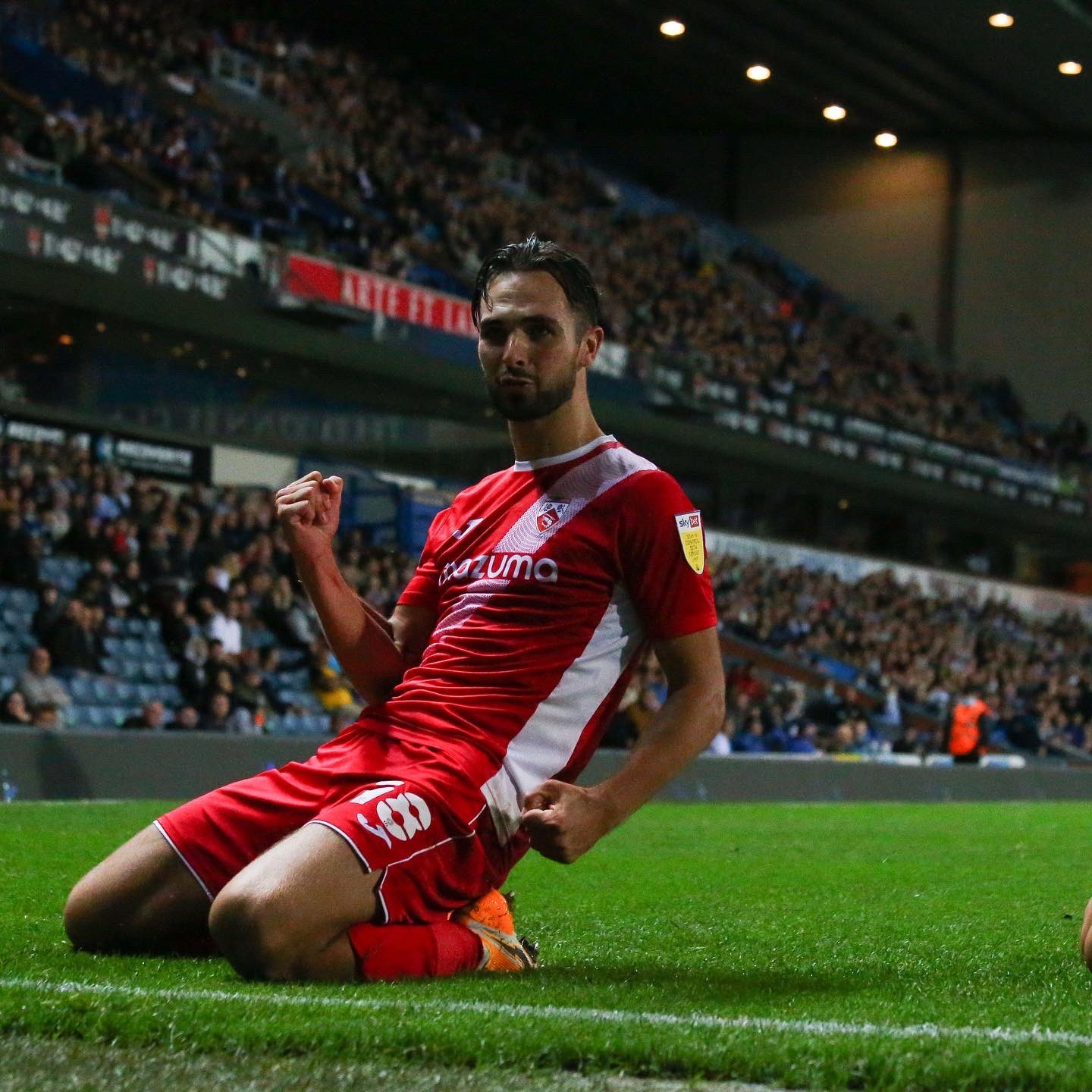 Phillips was the risk-taking penalty-scoring 'quarterback' (i.e. threading a variety of through balls into the danger areas) and Wildig made late runs in the six hard box to lose his marker to grab goals. There was obviously a little more to their responsibilities than that, but it represents the headlines. 
Six of Aaron's ten goals were in the six yard box.
I envisage Adam Phillips being the more offensive midfielder in a three with the other two positions filled by Ousmane Fane and Toumani Diagouraga ('Toums'). This would mean leaving out one of our best performers of the season, Shane McLoughlin. He's one of my favourite players, but I'm not entirely convinced he's what Derek looks for in a central midfielder. Tough decisions have to be made sometimes.
Ex-Shrimp and fans favourite Yann Songo'o played 38 games under Derek Adams and Derek has managed the French born defensive midfielder at four separate clubs – Ross County, Plymouth, Morecambe and Bradford City. Obviously, Yann is still at Valley Parade being managed by recently appointed Mark Hughes. The closest thing Morecambe have to a player in the mould of Songo'o is another Frenchman, Fane. In this predicted side, Ousmane will sit in front of a back four to break up play with blocks, headers and tackles.
'Toums' will be the ball player in the middle to link up the play and bring his experience to the side. From the current squad, he has played the most games for Derek with 72 games over spells for The Shrimps and Plymouth Argyle.
Often prior to games, I bounce ideas off other Shrimps fanatics (or geeks!). In this instance, I must give entire credit to long-standing friend and Morecambe Supporter – Mat Seage. His line-up was one that stood out to me and made a lot of sense. 
XI: (formation: 4-1-4-1) – Trevor Carson (GK), Ryan Cooney (RB), Anthony O'Connor (RCB), Jacob Bedeau (LCB), Greg Leigh (LB), Ousmane Fane (DM), Jonah Ayunga (RM), Adam Phillips (RCM), Toumani Diagouraga (LCM), Aaron Wildig (LM), Cole Stockton (CF).
This leans on players who have been involved regularly recently, whilst introducing key players mentioned early.
According to Wyscout 4-1-4-1 was Derek's most used formation in 2020/2021 with 39% of the time.
Ipswich Town under Mckenna are guaranteed to have significantly more possession than a Derek Adam's side. They have overtaken MK Dons in this regard and now hold top position with 58.4%. This dominance of the ball was highlighted further in a recent clash with MK Dons in which The Tractor boys had 53.5% of the ball.
Derek's Morecambe got promoted with the lowest possession in League Two with 40%, yet scored the second most goals in the division (72). It was certainly attritional, but not lacking in chance creation or excitement. This narrative is often a little confused when discussing Derek's success last year in my opinion. Just because we didn't retain the ball for long periods of time, doesn't mean we didn't play attacking football.
Going back to that style would be quite a change to what Stephen Robinson was trying to achieve. We often looked to play through the thirds and maintain possession in our own half, yet press high with certain triggers to press the ball high up the pitch.
In League One this season, we've had the seventh highest 'direct speed', whereas Derek Adams' side had the highest direct speed in League Two.
Direct speed is a measure of how quickly a team progresses the ball upfield (metres/second).
I've absolutely no doubt we'll be dominated in terms of possession, but what I'm less sure about and intrigued to see is how direct we will go when we win back the ball from Town.
Towns's Selections
Joe,
"We have a settled back 8 players (3CBs, 2 WBs and 2 CMs) and the regular rotation in the side has come in the front 3 players – sometimes this is 2 strikers and a number 10, or 2 10s and a striker, or 1 wide striker, one central and a winger……it tends to be seen as a way for McKenna to try and exploit what he sees as weaknesses in the opposition side and to keep these players fresh for the run in. It has been a very flexible set up and has been very difficult to guess who is in these roles

Wes Burns has looked tired in recent games, and is such an important player as RWB I wouldn't be surprised to see him rested for this on, and Sam Morsy's regular CM partner, Lee Evans, is injured so one of Tom Carroll, Tyreeq Bakinson or Idris El Mizouni will start alongside him."
Oscar,
"The front 3 have all been very interchangeable since McKenna has come in, with him looking to use the high volume of different profile players we have in our talented squad to suit each game. In midfield, Lee Evans is ruled out for a couple of weeks so it's between Bakinson, Carroll & El Mizouni on who plays next to Morsy.

In previous games against midfield's consisting of a sitter & two 8's, McKenna has generally played with two 10's to play outside of the opposition's DM. In a tough away game like this he may look to go a bit different like he did against Burton."
Thomas,
"There are four key areas of the park that will need to be decided on by McKenna as we head into Saturday. All Ipswich fans can pick seven of the starting XI, injury dependent of course. The dilemmas that McKenna will have to work on will be Sam Morsy's midfield partner, and how the front three lines up. 

With Lee Evans out for the next few weeks, it is a straight shoot-out between Tom Carrol, Tyreeq Bakinson and Idris El Mizouni for who starts alongside Morsy on Saturday. 

Going forward, depending on the status of James Norwood, there could be seven players pushing for a start in the front three. Norwood missed the last game, but it is unknown why. McKenna has rotated the front three in each of the last eight games. I couldn't even guess who gets picked for this one!

In my opinion, trying to tap into McKenna's mind is an impossible task, but if I was to think like him and how he picks his side based on the opposition's weaknesses rather than our strength, I think it will be a 3-4-3."
Town's Strengths
Joe,
"The strength since McKenna has come in is the backline, the formation is slightly lopsided as Janoi Donacien drift between RCB and RB to allow Wes Burns to push on whilst also supporting him going forward, whereas on the left hand side Dominic Thompson is not quite as adventurous as a Wing Back and alternates between being a LWB and LB depending on possession.

Luke Woolfenden has been revitalised since McKenna was appointed and is looking a Rolls-Royce of a defender centrally, and Sam Morsy is dominating games in the centre of midfield.

We look very organised as a side now, and look more organised each game that we play – it's a very different proposition to the loose style we played under Paul Cook and when teams do breach the back line they are up against probably the best Goalkeeper in the division in Christian Walton"
Oscar,
"One of our major strengths since McKenna has come in is our defensive ability, we are very possession based, we keep the ball very well & our structure when we have the ball means we aren't very susceptible to counter attacks. As a result our game management is another one of our big strengths, we haven't really looked under much pressure when being ahead in a game. As stated before, McKenna is very big on reacting to the opposition & our approach to games personnel & system wise has been very very good. 

Individually; Woolfenden has been a revelation recently, many of my doubts hanging over him as a player have been proven very wrong. Has competed very well against target men like Vokes & Oliver as well as defending space behind him against more transitional strikers such as Parrott & Charles. Celina & Chapin have the ability to produce something out of nothing, Morsy is a superb all round midfielder & his ball carrying ability is very important to us keeping & progressing the ball. Walton is a Championship level keeper & if he had started the season we wouldn't be in the position we are now."
Thomas,
"Strength wise, you can't look past the rejuvenated defence under Kieran McKenna. Eight clean sheets from 11 games is an incredible record, considering we had five clean sheets from our first 28 games of the season. Christian Walton's arrival on loan felt like a coup from Premier League Brighton, but turning that into a permanent deal cemented us as having the best goalkeeper outside the Championship. 

The return of Luke Woolfenden to the starting XI has been a masterstroke by McKenna, and further highlighted the mis-management of Paul Cook. To see an academy product play each week is a brilliant feeling, but to watch someone be nurtured into one of the standout performers in the whole league in 2022 warms all Ipswich fans' hearts.

However, for me personally, the biggest strength in the team is our club captain and Egyptian King Sam Morsy. His four-game absence for a push rocked us massively, even though we won three of the four he was out for. His drive and tenacity offer us an extra layer of attacking threat in the opposition half, and it is only a matter of time before he scores his first goal of the season.

I can't round off the strength's part of the preview without touching on Kieran McKenna. He has been a breath of fresh air since his arrival, and his openness with the fans and the media has been a complete opposite to some of his predecessors. Our local reporter, Stuart Watson, summed his time up brilliantly a few weeks back. I'm paraphrasing here, but 'Mick McCarthy would demoralise the fans, Paul Lambert would lay the blame as far from himself as possible, and Paul Cook wouldn't even discuss players or injuries.' McKenna's openness pre and post-match helps everyone understand exactly what he is trying to do with the club."
One overarching theme in all three opinions on this matter is how Mckenna has made things tighter at the back. The transformation shows in all elements in terms of the numbers. 
Town have gone from conceding 1.5 goals per game under Cook to 0.36 goals per game. What an incredible turnaround defensively! They've reduced the expected goals against by 1.23 to 0.95, reduced shots against from 10.3 to 7.9 and shots on target against from 4 to 2.3. This improvement in the number of goals conceded looks sustainable if they continue playing like they are. All stats are courtesy of Wyscout. 
Incidentally, with Paul Cook at the helm Ipswich were conceding more shots against them (4) than they were getting on target at their opponents goal (3.1). A huge underperformance when you consider the 'no-expense-spared' approach to recruitment in the summer prior to the season. 
Town's Weaknesses
Joe,
"Our main weakness is in scoring goals and creating the amount of chances that you'd expect with the dominance in possession and territory. Often the final ball is lacking when in good positions and we aren't as clinical as we could be.

There has been a lot of rotation in the front 3 and no one has grabbed the opportunity by the scruff of the neck and really cemented a place – I'm sure they would all say that it's hard to get into a run of form without a run in the side, and whilst there is merit in this position they have all had opportunities and not done enough. Kayden Jackson has probably been the most impressive and his running power and physicality troubles opposition defences. Now that we only have one midweek game between now and the end of the season I expect to see the front 3 positions settle down."
Oscar,
"I still think our main struggle is breaking down opposition's blocks, we have really struggled to break down teams & especially teams who use a 532 shape (baring Burton). Our ball progression has been good & when we get into the opposition's half we have mainly looked to create wide overloads (the right thing to do against a 532) with the RWB, RCB & right sided 10 combining wide on the right & on the left looked to get our LWB, LCM/LCB & left sided 10 to combine & get behind the opposition. The problem arises when we work the ball into the box, with these combinations there is then a lack of players in the box to attack these crosses. 

Another big problem has been our conversion of set pieces, we haven't converted from a corner in 106 attempts in the league if my maths is correct…. "
Thomas,
"Funnily enough, despite the array of talent we have going forward, our attacking third has been the biggest problem in the last few months. Under Cook, we got by with scoring freely and conceding plenty, picking up one point rather than zero on many occasions. However, when the goals dried up at one end, they kept flooding in at the other and that saw the end of his tenure.

Macauley Bonne hasn't scored in nine games. James Norwood in nine. Joe Pigott none in 30. Kayden Jackson scored his first league goal since 2020 last Saturday. Conor Chaplin and Wes Burns carried the load for a while, but it won't be sustainable for the rest of the season. It feels like a case of 'once one falls, others will as well.' A lucky bounce, off the shoulder, a goalkeeper error. Something needs to happen for one of the strikers to get their goal, and then I'm confident they will keep flowing."
Again, all three opinions are consistent and are in line with the statistics naturally too.
Whilst we mentioned the defensive elements have improved enormously the goals scored per game has actually decreased from 1.8 to 1.27 per game. Expected goals has remained almost identical from 1.28 to 1.29, shots for has increased from 9.4 to 11.7 and shots on target have increased from 3.1 to 3.5.
It would seem they're getting a similar level of quality of chances, but they are taking more shots and getting more on target – yet are scoring less. Perhaps decision making in the final third has actually got slightly worse and is one area in which has seen a drop off?
Opportunities Against Town
Joe,
"The main opportunity is to see off our possession and wait for us to tire a bit as we have started pressing relentlessly – we aren't a side without weaknesses but we have been very good at denying opportunities as well as goals in recent weeks.

Against Cheltenham on Tuesday we were so good in the first half that we should have had the game won, but they denied us space in the second half and showed a bit more ambition and whilst it would have been unjust they had opportunities to snatch it."
Oscar,
"I think there are definitely situations you can create which exploit us/trouble us. As I said before we have struggled to create opportunities against a deep 532 block so using that shape may cause problems if executed well. 

If we play a 343 we can struggle when defending in a lower block, especially on our left side with Celina having to drop back who doesn't have the greatest discipline defensively & defensive ability, but is improving.

When pressing high our RWB presses higher than our LWB, meaning that our RCB then steps across to become an auxiliary RB, if you can pack that area & create confusion when our players step up/across you can progress the ball & exploit our high line well. Expanding on our pressing, our LWB not getting as high up means that our left sided 10 has a lot more space out wide to defend than our right sided 10. We combat this by trying to get teams to play to our right side by using pressing angles but if you work the ball to our left it could once again cause problems."
Thomas,
"The lack of Lee Evans in the middle might make us more open, especially on the right-hand side of the pitch. Defensively we look strong, preventing teams from having too many shots on our goal.

Arguably the biggest problem we have had this season is defending set pieces, mainly due to Paul Cook handing over the reins of 'set-piece defending coach' to former England striker Francis Jeffers. Don't ask. We have never been comfortable with defending set-pieces, due to the lack of height in the side outside of the back three, so if there was to be an area for Morecambe to exploit it would be set-pieces.

Cole Stockton will always be a menace. His two goals against us back in August were well taken, and we know he will be chomping at the bit to get some more revenge on Ipswich after the Stockton – Celina Goal of the Month fiasco back in November."
Joe mentions an opportunity for The Shrimps to sit tight and hope The Tractor boys feel the fatigue without scoring. This would fit in with a Derek Adams side to sit deep and allow shots from distance. It wouldn't be the first time his side have been able to do this.
During the League Two playoff final of 2020/2021 – let's be honest – Newport carved us open on a number of occasions, yet we were able to ride our luck and win the game 1-0. County had twenty one attempts to nine, with five shots on target to two. The casual EFL watcher may think this was the only way under Derek Adams (it certainly wasn't), but in this instance it ultimately did the trick somehow!
One thing I remember from that final and from his side in general is how eager all the team were to put their bodies on the line to block a shot. We ended up with the fourth highest number of blocks in League Two with 155. A crucial block can be worth the same as a clinical finish! 
I mention this similar aspect each week with regard to opportunities and that's Cole Stockton's ability to create chances autonomously. The second top scorer in League One with 18 goals has had the biggest number of carries leading to goals in the division – 5. Town no ever so well how he is comfortable moving the ball into dangerous positions after his opening day solos goals at Portman Road.
Threats from Town
Joe,
"Our right hand side with Wes Burns (8 goals and 4 assists) has been the source of lots of joy, especially on the counter attack, and there is serious quality whoever plays in the number 10 position with Bersant Celina, Sone Aluko and Conor Chaplin. We are sometimes guilty of overplaying, but if we get ahead in a game early then confidence flows through the side."
Oscar,
"Player wise, I think our two flair players, Celina & Chaplin, who can create something out of nothing are our biggest threats but not sure if they will start. Kayden Jackson has been playing really well recently, his pace in behind is a huge weapon we can utilise & his cut backs/crossing on both feet are superb if we can get him in behind on occasions. Burns' 1v1 ability out wide is a huge threat & if you give him space to attack you are asking for problems."
Thomas,
"Without trying to cause offence to Morecambe fans, I think there are more areas for us to exploit than for you to exploit us. 

It is likely we will control the game, especially with Derek Adams arriving as the manager. We've been very good at playing through the press and punishing teams when they commit too many men forward. A lot of our play will be down the left of the pitch, before a quick switch over to Wes Burns who – on his day – is one of the most dangerous wing-backs in League One. 

Your formation will decide our front three. It will probably be different depending on if you play four or three at the back on Saturday. We utilised Kayden Jackson's pace against Burton Albion on Saturday, playing the ball between the wing-backs and the wide centre-backs for him to run on to. It should be a good game at the weekend, and a good atmosphere for Adams' return. We halted Neil Harris' manager's bounce at Gillingham, hopefully we can do the same at the Mazuma."
Ipswich Town have an embarrassment of riches through their whole squad with genuine Championship players. I personally thought Conor Chaplin was one of their key creative influences on the opening day against us (completing 100% of his 20 passes and all of his five forward passes), but none of the three contributors have him in their starting lineup.
Obviously if he is not playing he won't cause a threat, but it illustrates the calibre of squad Kieran Mckenna has, when a 25 year old who's made 67 starts in the Championship is not a shoe in for a starting berth.
Joe Pigott scored 20 League One goals for AFC Wimbledon last year, yet isn't selected in any of the predicted lineups and has only managed 659 minutes. It's worth noting he has had challenging personal circumstances as a factor to this though with the tragic passing of his father.
There are many other examples of this through their hand-picked squad of talent, so picking danger men is difficult – particularly as Mckenna loves to swap and change his lineup depending on the opponent.
LET THE BATTLE COMMENCE! 
A question raised from reading the views of our opponents is are Ipswich suffering from an embarrassment of riches up front or some indecision on the manager's part?
Picking your frontline based on how the opponents line up and not on your standout front two (or three) could be interpreted either way.
Town's incredible defensive record guarantees they pick up points, but if they don't convert they obviously won't get maximum points to keep pace with the other playoff contenders.
The answer could be to let Town have the possession they so love, marshal them well keeping them to speculative long-rangers and then pounce when they lose it. Running at their defence whether cutting in from the flanks or directly at them may well give us the free kicks we need to make them pay at set-pieces. Attacking set-pieces hasn't been our forte this season, but we have looked more dangerous from our deliveries as the season has progressed.
With thirteen games for The Shrimps and twelve for The Tractor Boys remaining, this really is the business end of the season. Derek Adams will be desperate for three points to keep us in the division, whilst Mckenna will be doing all he can to bring home the result to get Town out of the league. It promises to be an intriguing encounter with lots of tactical decisions to keep an eye out for at The Mazuma Stadium and I can't wait to see Derek walk out to an electrifying home support.
I'd like to say a thank you to Joe, Oscar and Thomas for their top class contributions. It's extremely reassuring to see consistant themes in the opinions and observations.
I hope you enjoyed the preview and analysis. If you did, please follow ShrimpsOnline for more news & updates. FEEL FREE TO LEAVE COMMENTS BELOW.