The Shrimps (19th) vs MK Dons (8th) Preview & SWOT Analysis – 27th November 2021
Match Overview
MK Dons were seven minutes of normal time away from picking up a valuable win at Sheffield Wednesday on Tuesday, yet conceded late on to lose the game.
On the other hand, The Shrimps valiantly battled back from two goals down to pick up an important point against newly revived Charlton Athletic.
I expect this tie to be a very strategic match-up with Liam Manning desperate to get the Dons promotion push back on track, whilst Stephen Robinson will be looking to continue the momentum of this mini run of two League One games without defeat. 
I am delighted to have the help of MK Don´s fanatics Matt McGinn and Jonathan Harries to pick apart the enticing fixture that awaits us. 
So what are they expecting from the game?
Matt –
¨A strong response following a gut-punch of a defeat at Hillsborough on Tuesday evening, in which we conceded two late goals and looked uncharacteristically timid throughout. In his post-match comments, Liam Manning called for more bravery on the ball and I hope we'll see this up at Morecambe. 

I haven't seen enough of Morecambe to comment on the challenge that awaits us. It instinctively feels like a 'tough place to go', but this is probably conditioned by my last visit in 2018-19, for a comical game in which the wind dislodged an advertising board and made the players look like they were fresh from a five-pint session.¨
Jonathan –
I'm expecting a close game on Saturday. Morecambe to me have a never say die attitude which I admire and respect your team so much and undoubtedly you have talent within the squad. Much will depend on the battles between Kasumu and Philips, Watters and Wootton, Stockton and Darling (if they play). I imagine we will have possession and it depends how Morecambe approach the game. It's a fairly tight pitch compared to Stadium MK so width may be an issue. 

If you low block then you stand a chance but if you try and press it could create the space needed for Twine and O'Riley to exploit. If you get an early goal then sitting back could be a good option. We have struggled with Doncaster and Shrewsbury and their pressing and been more successful v Wigan and Portsmouth and their freedom. I've predicted a 3-1 away win. I just feel like you may see a reaction to our defeat against Sheffield Wednesday in midweek.
Despite the last result, over the last six games MK Dons come into this fixture, the form side having picked up four wins in the last six. The Shrimps have picked up 5 points from their last 18, but encouraging signs have emerged with four points from the last possible six.
With the help of the expertise of Matt and Jonathan the preview will cover team selections, MK Don´s strengths, weaknesses, opportunities against them and threats from them.
Shrimp's Selection
Robbo has used the word ´momentum´ to build on the mini sequence of positive results – three unbeaten (excluding the Papa´s Johns defeat to Carlisle) and I firmly believe he's trying to keep as consistent as possible with selections. Talking in his pre-game interview,
¨I tried to pick the same team twice, but Arthur was ill so we had to change it again. We probably won't be able to stick with the same team, but we have a settled midfield. The back four remain the same for two games in a row which was rare for us due to injuries and suspensions. Hopefully we´re getting a wee bit of consistency with us now.¨
He also went on to say that Arthur Gnahoua was still a big doubt due to his illness. I envisage we'll stick with the same eleven, with the exception of Arthur if he's fit.
Against Charlton, after a very slow start in which we went two goals down and The Addicks could have been out of sight, we fought back with great spirit to earn a draw. Anthony O´Connor put in another captain's performance and played like a man possessed to get the result.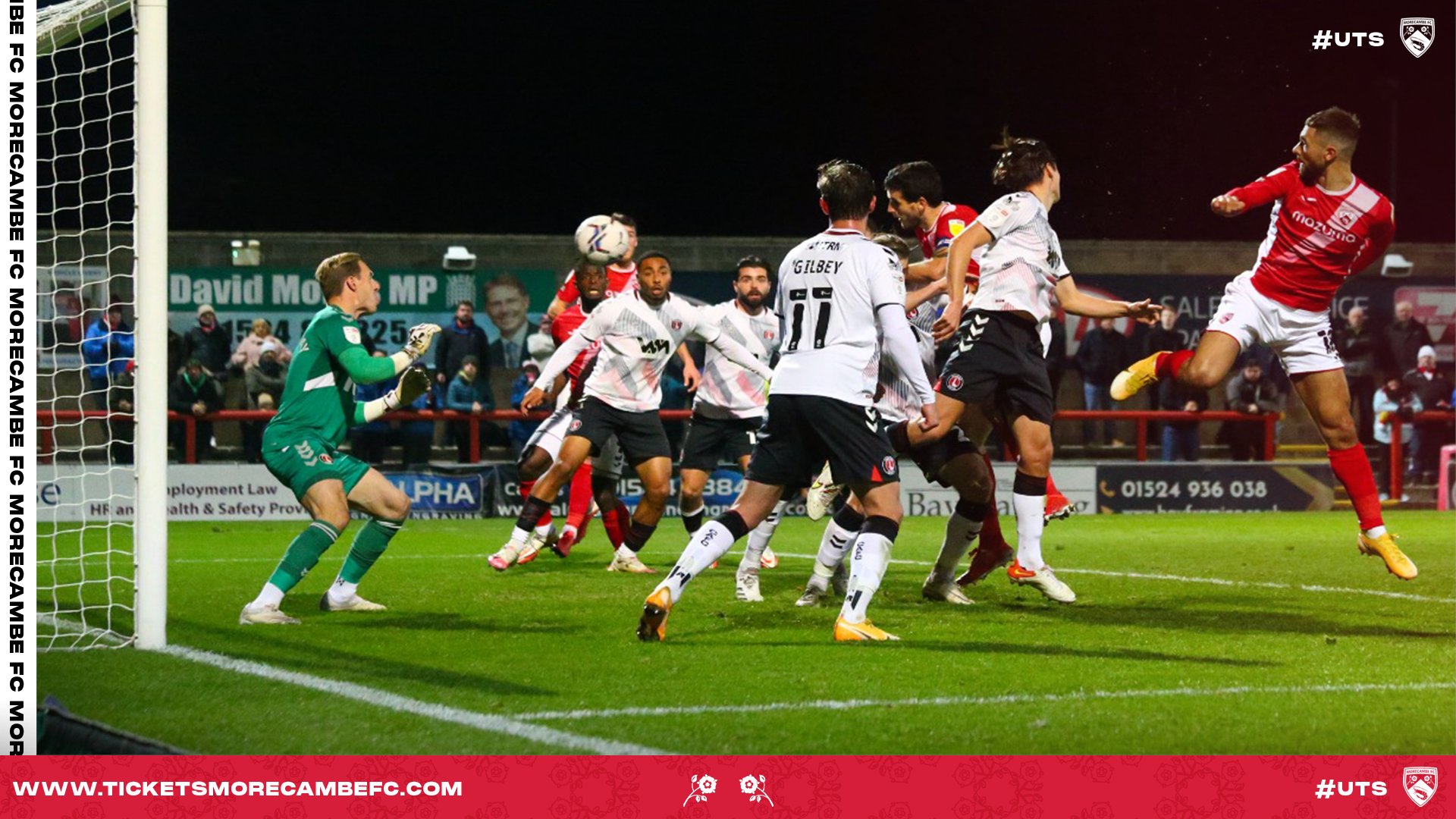 On top of his goal from a corner, he made a massive 16 interceptions. To put that into perspective, he's averaged 5.69 per League One game this season.
Ryan McLaughlin had his best game in a Morecambe shirt and was dogged in stopping relentless waves of attacks by Charlton down our right side. He made ten interceptions and his stand out moment was an impressive last ditch recovery challenge, with the score at 2-1 to Charlton.
Charlton´s attack-minded right wing back, Diallang Jaiyesimi, dribbled on the break before launching a ball diagonally into the path of their forward Conor Washington.
Conor Washington managed to take the ball goal side of Ryan McLaughlin.
Connor Washington turned the ball inside onto his stronger right foot. McLaughlin kept close without diving in.
As Conor unleashed his shot, Ryan had read the situation perfectly and tackled at the vital moment. If Washington had scored this, Charlton would have taken a 3-1 lead with just 24 minutes of normal time remaining.
It speaks volumes in terms of how The Gaffa rates McLaughlin that he's keeping one of our most talented and valuable players, Ryan Cooney, out of the team.
Greg Leigh put in a shift on the left side of defence, making 14 clearances and winning 9 of his 16 duels.
It's particularly pleasing to see consistent players – Callum Jones, Alfie McCalmont and Shane McLaughlin – in midfield for two consecutive games and put in solid performances.
Robbo was pleased with the combination,
¨What they've got is energy and legs. They're young and naive at times, but with their energy and their willingness they make up for that. We've also got 'Toums' (Toumani Diagouraga), who even though he's not playing, is still talking to people in the background, encouraging and coaching them¨.
Shane McLoughlin has made a huge difference since his return. Robbo mentioned, ¨He triggers our press. Alfie goes with him. Callum goes with him¨.
He covers every blade of grass and was successful with 12 of his 16 duels, which you can see from the map are all the length of the right hand side of the pitch.
MK Don´s Selections
Matt – 
¨We have a fairly settled team and a very settled formation (3-4-1-2). Centre-half Aden Baldwin has deputised well in the back three, but I expect a return to the more familiar trio of O'Hora, Darling, and Lewington. Troy Parrott has been absent for the last couple of matches due to Covid protocols. His return (most likely to be off the bench) would be a boost considering how much football our attackers have played in the last couple of weeks.¨
Jonathan –
¨I don't think there's too many headaches that Liam Manning has to consider. It's been a relatively settled squad as of late, the exception being Harry Darling served a one match suspension after his red card in the FA Cup v Stevenage. 

It'll be interesting to see if Max Watters recovers. He came in the 72nd minute at Hillsborough on Tuesday and Liam Manning mentioned it´s ´the bottom of the foot… it's a case of see how he is in the morning´. If he's missing they have quality replacements in experienced marksman Mo Eisa and Spurs loanee and Irish international Troy Parrott as options. The latter is presuming he's in a position to rejoin the squad.¨
MK Don's Strengths
Matt –
¨At the moment it feels like our main strength is a cohesive structure off the pitch. The departure of our CEO, Andy Cullen, to Portsmouth, provoked a restructure in the summer. We now have a Performance Director and a talented Sporting Director in the form of Liam Sweeting. We desperately needed this modernisation after several expensive cycles of a manager recruiting his own squad, losing his job, and his successor doing the same. Recruitment has been incredibly impressive under Sweeting; when Scott Fraser left for Ipswich for a chunky transfer fee, his replacement, Scott Twine, was already in the building. 

That brings me on to our main strength on the pitch: the relationship between Scott Twine and Max Watters. They each got a brace of goals and assists in our recent 4-1 win against Cambridge, and have developed a strong understanding despite relatively little time on the pitch together.¨ 
Jonathan –
¨MK Dons strengths are the confidence to pass with purpose and energy. The majority of the attacks start right from Fisher to Darling, building from the back with good width held by Kioso and Harvie respectively for the long ball option should it be needed. MacEachran and Kasumu can rotate between them with MacEachran keeping the game flowing with simple passes and receiving from the backline, Kasumu is the enforcer who breaks up play with purpose and vigour. Twine and O'Riley are inverted attacking midfielders allowing the wing backs space down the sides. Twine loves a dead ball situation and O'Riley can pick a pass. Up top Watters makes several runs a game off the last defender not giving them a moment's peace. With Eisa and Parrott as backup this feels like a very strong squad.¨
I must admit watching MK Dons every week must be a joy to behold. Their technical ability in all areas of the pitch allows them to dominate possession, yet cut through teams with precise passes.
MK Dons have both the highest possession and highest passing rate in League One. They average 59.5% possession and 14.4 passes per minute of possession, according to Wyscout. This compares with Morecambe´s 44.9% possession and pass rate of 11 passes per minute of possession.
An area they are particularly strong is their ability to cut through the opposition defensive line. They have made 190 through passes, compared to a League One average of 110.08 and 33 more than the side ranked in second position for this statistic, Ipswich Town.
A through pass is defined by Wyscout as, ´A pass played into the space behind the defensive line for a teammate to contest´
Central midfielder Matt O´Riley and attacking midfielder Scott Twine have made 48 and 36 through passes respectively, which combined is three more than the whole of the Shrimps team put together (81). 
Against Sheffield Wednesday, O'Reilly has the ball in his own half and without any pressure he plays a ball over the top beyond the Owl´s defence.
On this occasion Scott fluffs the chance, but shows how quickly and easily they can exploit a defence.
Against Burton Albion, O'Reilly has the ball in his own half and lofts it over the top.
The ball puts the powerful and pacey Max Watters one-on-one with Burton Albion keeper, Adam Przybek. The Cardiff loanee does not capitalise on this occasion, but again shows how easily the lofted ball over the top can hurt defences.
Twine is deadly too. Below against Cambridge, he plays in a low through ball beyond the United defence for Max Watters to run on to.
The 22-year old Watters collects the ball and runs into the open space towards goal.
Max's left footed drive across Dimitar Veselinov Mitov hits the back of the net with clinical precision.
This exact same combination worked again for Watters´ second goal against the U's.
Watters (number 36) plays the ball to Twine's feet, whilst the ball travels he runs beyond the United defence.
Twine makes a lightly weighted chip over the head of Cambridge's backline.
Max blasts the ball passed Mitov again, but this time with his right foot. 
These lethal through passes can come from all departments. Interestingly, the third on the list is veteran centre back Dean Lewington. Give him space to pick a pass at your peril.
MK Don's Weaknesses 
Matt –
¨Fatigue could become an issue. We've had a heavy run of games, including an FA Cup replay at Stevenage that went to extra time. This has clashed with a spate of absentees, due to a combination of injury and Covid protocols. ¨
Jonathan –
¨Our weaknesses are that we rarely keep clean sheets. Saturday v Burton was the first one in over 2 months in the League. Also if the press is right from the opposition there are plenty of opportunities to counter attack particularly down the sides where both wingbacks play really high. Kasumu can pick up silly yellow cards if his opposition number winds him up as does Harvie. The average age of the squad is 22 so naivety is still there regarding game management but that's to be expected. Tuesday night Chey Dunkley won nearly all his headers from attacking corners, nearly scoring twice. I believe we must zonal mark after witnessing that. ¨
The Dons have completed the most passes in the division with 8755 compared to the League One average of 6571.46. With an average of a massive 444.67 passes per game, there's obvious room for errors through pure numbers.
Against Cambridge, central midfielder David Kasumu receives the ball with his back to goal.
United´s Jensen Weir reads the situation and tackles Kasumu.
Cambridge then break directly on the MK Don defence.
A point to add here is that their 3-4-3 turns into a kind of 3-2-5 in possession. Their wing-backs – unusually Daniel Harvie on the left and Peter Kiosko on the right – push far up wide to widen the pitch and stretch play. The downside of this is if one of the central midfield two get caught on the ball, the opposition are directly against the MK Dons defence. In this particular situation it´s a 2 vs 2 which does not result in a goal, but represents a dangerous phase of play for Manning´s men.
In a similar vein, MK Dons appear to be football purists in terms of playing out from the back unless there's a specific intentional direct ball.
In the example below against Rotherham, centre-back Warren O'Hora has the ball in MK Don´s wide defensive right. The Miller´s Ben Wiles comes to close him down.
The majority of tier 3 centre backs would clear the ball into the stand with no judgement for their manager. Yet, O´Hora tries to play around Wiles with a through ball.
The end result is Rotherham win the ball back and advance into space towards the final third. 
How much unnecessary danger do they put themselves into?
MK Dons have the third youngest side in League One – according to Wyscout – with an average age of 23.8. Liam Manning mentioned in his post-match interview after the loss to Sheffield Wednesday that,
¨Some of it comes down to experience. Some of it comes down to understanding. Some of the guys haven't experienced playing at a place like this (Hillsborough)…I wouldn't say it´s (about) belief, it's more about being brave enough to do it… It's about taking responsibility and executing it and grabbing games like that¨.
From what Liam Manning suggests in his interview an element that MK Dons must work on is having the nous to manage a game situation.
MK Don's Opportunities Against
Matt –
¨Give the ball to Cole Stockton, literally anywhere on the pitch' feels like an approach that could trouble us. From what I've seen of Stockton, he looks extremely good at using his body to roll the defender. I can see our centre-halves, with the exception of the more canny Dean Lewington, struggling with the dilemma of whether to get tight to Stockton or drop off him. 

Also, we tend to struggle when teams shut down the passing lanes that we look to use to get the ball from defence to midfield. Rotherham were particularly effective at this. If Morecambe press in an intense, smart way, we can be unsettled.¨
Jonathan, 
I think if Cole Stockton targets O'Hora and Darling then he will get a lot of joy. McCalmont and Phillips could find room in the pockets to deliver balls into the box. Also set pieces we don't look too confident on. Ryan Cooney could have some success v Harvie offensively. I also noticed last night v Sheffield Wednesday we sat back after taking the lead. In my humble opinion, we are so much better when we are on the front foot and pressing. It really felt like points dropped, particularly since I'd say only Rotherham are the only team this season to dominate us for 90 minutes. The quality in L1 this season is ridiculous and you do get punished more often than not. 
As mentioned in the weaknesses, MK Dons can sometimes give the ball away in dangerous areas by overplaying. Whilst Morecambe have the 5th highest PPDA´s in League One, according to The Analyst (i.e. low intensity press), Robbo has mentioned they have set situations they press and he believes pressing well is a key component of The Shrimps´ DNA moving forward.
I believe if The Shrimps are organised and press at the right moments, they´ll be able to win the ball back and counter. If they press too aggressively, MK Dons have the ability to pass out and play balls beyond you which will leave you dangerously exposed and overloaded at the back.
I foresee we´ll use our central midfielders to close off the passing lanes as much as possible to negate the threats such as Twine, Lewington and O´Riley threading balls through behind our defence. When the moments present and we can push to press, we can look to catch The Dons off guard, win the ball-back and counter quickly.
Robbo mentioned that MK Dons are,
(They are) A team who play very good football. They've got an identity and a style of play which  we will have to go and match. We'll be well prepared, no doubt about that. It's a similar system to Charlton, so it's another one where we have to be disciplined and organised behind the ball. We'll allow them to have the ball in certain areas of the pitch where we feel they won't hurt us. Then we'll hit them on the break. 
The other area I foresee as an opportunity is when we win the back and have controlled possession is hitting the areas behind their back line out wide and in the ´assist zone´ of the area.
The type of forwards we possess – Cole Stockton, Jonah Ayunga, Courtney Duffus, Arthur Gnahoua – have the turn of pace and strength to beat their opposition defender one for one.
Against Charlton (below) on Tuesday, Ryan McLauglin had the ball on the halfway line in controlled possession. 
McLaughlin´s looped ball around the corner puts in Ayunga against his marker centre-back Akin Famewo.
In this situation Famewo does well to hold him Jonah off, but he still concedes a corner.
When teams play 3 at the back, these spaces will naturally become available. Particularly if their wing-backs play so aggressively – like MK Don´s do! Both Greg Leigh and Ryan McLaughlin have the ability to play clever balls ´around the corner´ for our attackers.
In MK Dons match against Crewe Alexandra, Crewe´s J'Neil Bennett has the ball wide left on the break. 
Mikael Mandron advances into the area and Bennett is able to find him with a pass.
Mandron then laid the ball off to left back Callum McFadzean who crossed the ball in.
Chris long then followed the curve of the cross to volley the ball back towards the goal and score. This illustrates that getting into this pocket of space in the area can prove fruitful.
In the example below against Chalrton, Cole is being grabbed by centre-back Chris Gunter.
Cole´s able to outmuscle his marker and ends up in the box.
The chance doesn't materialise, but I think against a back three these channels represent a great opportunity – particularly in phases when we´ve recently won the ball back and the MK Dons back-line isn´t structured.
MK Don´s Threats
Matt –
¨While we will look to dominate the ball and play pretty football, we're not averse to more direct passes over the top to Watters. This makes us awkward to defend against. Sit too deep and we have space to pass our way up the pitch. Push too high and we have passers (O'Riley and Twine) and runners (Watters) to exploit that.¨
Jonathan –
Scott Twine on set pieces or from range. He is one of the most fouled players in L1 and Cooney will have to be clever. Watters in behind Wooton will only be one winner as I know Scott lacks pace. Eisa and his movements in the box are clever and decisive. Kioso has 4 goals away from Stadium MK and scored with head and foot. Matt O'Riley will play in the Championship sooner rather than later. 
We´ve documented in full the threats offered by the pace and power of Max Watters latching onto through balls from various players.
The centre backs must not be flat footed to the danger – like Ryan Delaney was for Charlton´s second goal from a direct ball down our throat – and be ready for balls over the top.
Our midfield must block attempts to play through us, as much as possible and the defence must keep organised to be in line with each other with our off-side traps. 
As Jonathan has said, Scott Twine is dangerous from distance with free kicks.
We must avoid giving needless free kicks away outside of our box. Twine has already scored four free kicks this season. 5 of his 8 goals have come from outside the area and has exceptional technique to beat a keeper from distance. 
LET THE BATTLE COMMENCE!
The games are coming thick and fast as is the way in League One.
However, we have benefited from the international breaks in that many of our players have had a chance to rest up. It's interesting that our guest contributors for this and the Charlton game have mentioned how fatigue has been an issue in recent games, while for me it seemed that we finished Tuesday night's game the stronger and more confident team. I think this will be key in the coming games.
Playing against the extreme high possession passing game and constant threats offered by Twine, O´Riley, Lewington, amongst others  threading balls through to Watters is tiring over 90 plus minutes. Mental stamina as well as physical stamina will be key, if we´re to get a result against this classy MK Dons side. What's been evident over these last two games for The Shrimps is the spirit the team possesses in abundance under Robbo. This is going to be a tactical, mental and physical battle which I'm intrigued to see how it will play out!
I would like to say huge thank you to detail and insights provided from Matt & Jonathan.
I hope you enjoyed the preview and analysis. If you did, please follow ShrimpsOnline for more news & updates. FEEL FREE TO LEAVE COMMENTS BELOW.