The Shrimps (18th) vs Charlton Athletic (12th) Preview & SWOT Analysis – 23rd November 2021
Match Overview
Both The Addicks and the Shrimps come into this fixture full of confidence for different reasons. You'd have to have been hiding under a rock, since the weekend, if you've not seen Cole Stockton´s ridiculous goal to win the Fleetwood game! This is quite simply the best Morecambe goal I have ever seen in the 26 years I've been supporting The Shrimps. I don't think my words can do it justice, so if you've not seen it by chance, follow the link below:
Ali Maxwell on Quest described it as the EFL ´Moment of the Season´and it´s hard to disagree!
(It was a nice touch of Quest to link to Shrimps Online. I wonder if it was intentional?!)
This 94th minute strike from the halfway line rightly caught the headlines for its absolute brilliance, but the significance of those three points is almost lost in the emotion. Robbo's men had only picked up one point in eighteen so clinching those vital three points restores the belief and the feel good factor around the club as a whole.
Whilst the Morecambe faithful are idolising the genius of Cole Stockton, Charlton fans have their own saviour. Johnnie Jackson, caretaker manager and ex-player of 243 appearances, has temporarily taken the reins of a Charlton side devoid of confidence following the sacking of Nigel Adkins and languishing in 22nd place with nine points after 13 games. Since then, Charlton have won four and drawn one League One game, scoring nine whilst only conceding one.
They've hardly been easy games either, having beaten promotion chasing Sunderland, Plymouth and drawing to Rotherham in the mix of those games. The turn around is quite unbelievable!
For this preview, I'm delighted to have the guidance of three Athletic fanatics Alex Crawford, Matt Chappell and Ollie Gould-Elia. I really enjoy getting multiple perspectives on a side, as I believe it adds a layer of depth.
So what are they expecting from the game?
Alex –
¨Charlton will go into the game full of confidence having been totally transformed since the appointment of Johnnie Jackson as caretaker manager, succeeding Nigel Adkins. Club legend Jackson has instilled an insatiable 'die for the shirt' attitude and emphasis on hard work which bears more than a passing resemblance to the Addicks last promotion winning side in 2018/ 2019 under another former player, Lee Bowyer.

The Londoners are playing with a real swagger at the moment, but will have to be wary of showing even a hint of complacency.

Morecambe have taken to life in England's third tier like a duck to water, making a mockery of those who thought the newly promoted side would struggle in a higher division having lost key players such as Sam Lavelle and sparkling attacker Carlos Mendes Gomes. Jackson, though, will surely ensure consummate professionalism from his players. I expect both sides to make the other work extremely hard for time and space in this game, and each team will be working to restrict the other and then hope for a moment or two of quality from an Elliot Lee or a Cole Stockton. ¨
Matt –
¨A win! in all seriousness we're on a great run and the sort of one where I'd expect us to win every game we play at the moment¨
Ollie –
¨I am expecting a fairly awkward game, after coming off the back of a massive game against Plymouth at a full capacity Valley, physically and emotionally it might be difficult to get our feet back on the ground with such a short turnaround, as most of the players sunk to the ground at the final whistle due to the monumental effort they all put in. However in terms of the league form of both teams, this is a game we should be looking to win, as well as the quality we possess in the squad being capable of hurting Morecambe in many different ways.

As has already been mentioned comprehensively already, the turn-around from Charlton is astounding and this is reflected in the underlying statistics. .¨
According to Wyscout, in the 13 games with Adkins they averaged 1.22 expected goals for and 1.34 expected goals against, so a minus 0.12 goal deficit. In six of the 13 games they had the higher expected goals. Under Jackson, their expected goals for has increased to 1.6 and their expected goals against has shot down to 0.66 to make it a positive 0.94 goals average per game. They have had the higher expected goals in all five of their fixtures!
In the preview, we will delve deeply into the selection decisions for both managers, strengths and weaknesses of the Addicks, whilst also looking at the opportunities for and threats from them.
I haven´t focused much on overall trends (shots on target, PPDA, possession etc..) with Charlton in this preview, as Jackson´s radical changes has meant the majority of things that have gone before him this season are almost irrelavant. Their form and confidence has changed so signicantly that their season´s trends don´t tell the true story at The Valley.
Shrimps´ Selections
After numerous head-scratching moments in recent weeks and months trying to figure out the line-ups, this has to be the most simple of the lot! Unless there's no new injuries, we will stick with the side who beat Fleetwood.
The performance was brilliant – if we ignore the scary eight minute aerial bombardment around the 82nd minute equaliser – from start to finish and there's so many positives to build on.
In my last preview, I anticipated that Callum Jones would maintain his place in a big call to keep out the brilliant Toumami Diagouraga. The 20 year old has had to wait patiently for his opening. Prior to Plymouth Argyle on the 23rd of October, he'd only been involved in 112 League One minutes in 13 possible games. Since then he's featured in over 330 minutes in 4 games, which emphasizes how important he has become in a short space of time.
He was the best player on the pitch at Highbury on Saturday. He won six of his possible seven defensive duels, intercepted the ball six times and topped it off with a beautifully accurate free kick to open the scoring.
The return of Shane McLoughlin simply can't be understated. He brings incredible energy, aggression and technical ability to our midfield which was sorely missed in his absence.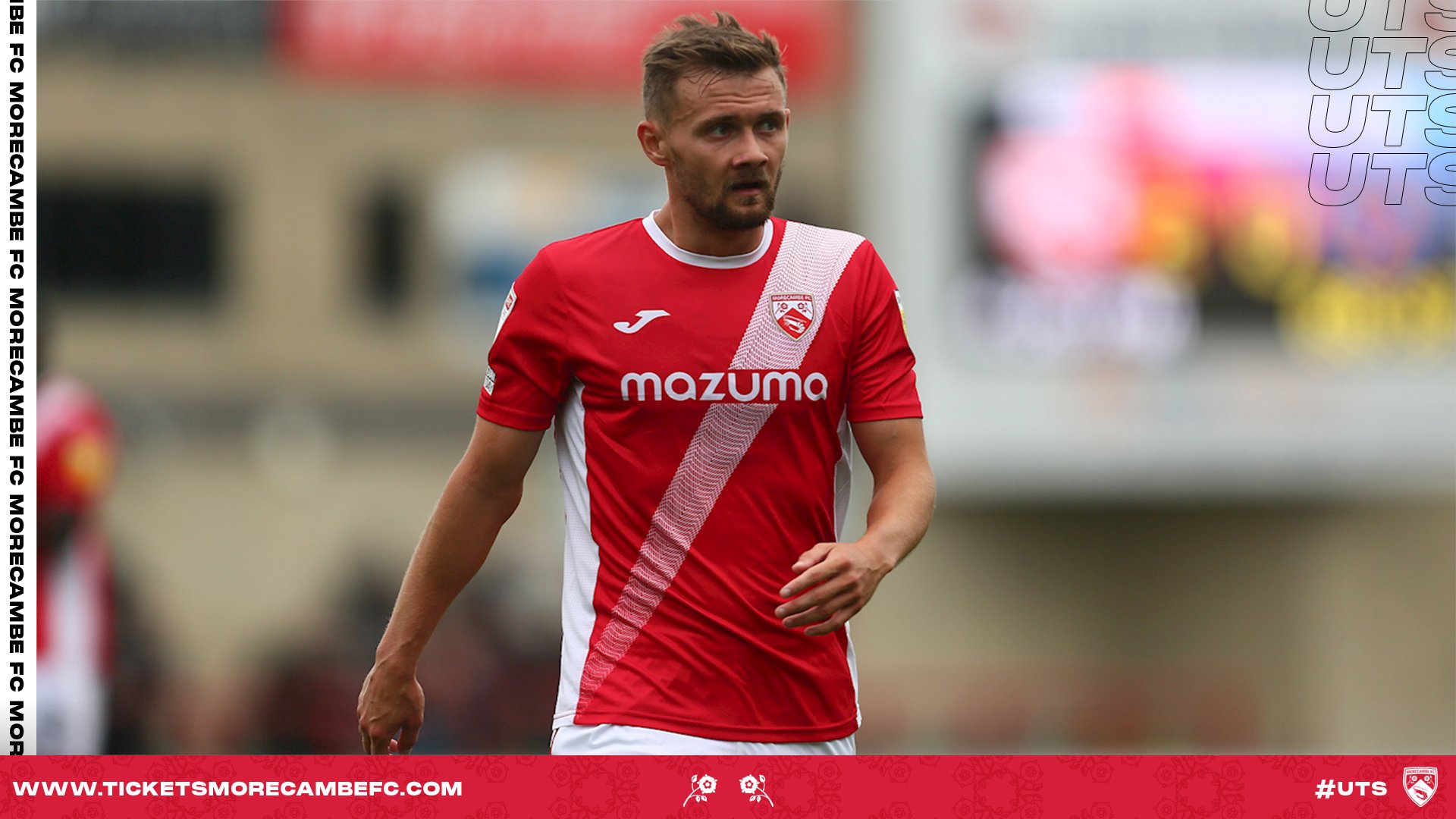 We've won 40% of games (4/10) he's been involved in and won just 14.3% without him (1/7). Football is obviously more complex with more variables at play, but at the same time that makes outstanding reading. Credit to Joel Shooter for running the numbers and Morecambe Director Charlie Appleyard for the suggestion.
Alfie McCalmont complimented McLoughlin and the deeper sitting Jones perfectly. I see absolutely no reason why you'd split these three up.
It's also worth mentioning, on top of his ridiculous goal, Cole´s hold up play was back to its best on Saturday.
Athletic´s Selections
What selection decisions does Johnnie Jackson have to make?
Alex –
¨Very few. Jackson has so far been very consistent in his team selection and 3-1-4-2 formation, only making changes due to injury and suspension.

All the while the team is playing well, the 11 mostly picks itself, although with several players having played so many minutes, and League 1's schedule being as hectic as ever, Jackson may feel he has to rotate at some point to keep players fresh.

Several looked dead on their feet after the final whistle on Saturday, but for now I expect the team to remain unchanged. ¨
Matt –
¨Whether or not, and who, to rest if anyone. Jason Pearce went off injured yesterday and Chris Gunter came on for him at CB. I expect he will stick with this, otherwise youngster Deji Elerewe could come in at CB. He's undoubtedly got a lot of potential but only 3 league appearances to his name so far and all as a sub.¨
Ollie
¨As I touched on earlier I think this could be an interesting one for Johnnie Jackson, with the effort that was put in on Saturday and a short turnaround he might be tempted to make a few changes. As well as that Jason Pearce went off injured against Plymouth, so we will probably have to make some adjustments there with Chris Gunter most likely to replace him. Other than that apart from Jayden Stockley being suspended, there shouldn't be any other enforced changes, as it will be broadly similar to the Plymouth game with a 3-5-2 formation employed. ¨
Athletic´s Strengths
Alex,
¨Jackson has so far adopted the same system in each of his 5 league games in charge – a bold 3-1-4-2. It has been a revelation, allowing Charlton to attack with 6 players, and most teams have so far been unable to live with it. It is reminiscent of the system high flyers Plymouth and Rotherham have also used to great effect this season, with two advanced central midfield players and highly aggressive wing backs. Charlton are not afraid to commit plenty of bodies into the box, which can overload teams from crossing situations, and there is always a threat on the counter with the ball carrying abilities of Washington, Gilbey, Lee and Jaiyesimi.

Without the ball, Charlton are encouraged to press high and force turnovers, but are excellent at quickly recovering their shape if the initial press is bypassed. The difference in this regard has been remarkable since the managerial change, with players working extremely hard out of possession to deny opponents time on the ball. Indeed, Charlton's biggest strength may well be the amazing work rate Jackson has coaxed from the player during his tenure. Opponents are made to work hard for any opening, resulting in the Addicks conceding just once in Jackson's five league games in charge.

The SE7 outfit will also be backed by a vocal away following. The Addicks generally travel in pretty good numbers, especially when the ground will be a new one for many, and are always vocal in support. There is a real feel-good factor around the club with Jacko 'at the wheel', and the players will be backed to the hilt. ¨
Matt,
¨Undoubtedly the manager! Has found the right system to compete with after the 4-3-3 Adkins was failing with. It's difficult to pick out standout performers this season as they were all dreadful up until a month ago. Stockley is our most powerful attacking threat but will serve the second game of a three match ban. Our main success in the last few weeks has been our high press, the wing backs have had license to bomb forward and give good service (at last) to the strikers). Gilbey and Lee in midfield are also full of running and have real quality on the ball.¨
Ollie,
¨I would say we have multiple strengths at the moment. I would say our 3-5-2 system causes teams a lot of issues and really gets the best out of our players. Our goalkeeper Macgillivray has been brilliant the whole season, even during the difficult moments. The back 3 are set up in a way that provides a real solid foundation, they all cover the space so well and it doesn't provide many opportunities for the opposition to get in behind. Our wing backs provide real width as well, with Jaiyesimi really strong when faced one on one with defenders.

The midfield is great at the moment the way they compliment each others attributes so well, Dobson is a real destroyer and gets all over the pitch with incredible energy to win the ball back, Gilbey is another energetic player who has a great engine and is able to stride forwards to help us get up the pitch, and Lee is a really silky player who has outstanding passing attributes as well as recently a knack for scoring a goal or two.

The other key strength for us, especially since Johnnie Jackson has come in is our physicality and work rate without the ball is outstanding, against Plymouth our pressing was brilliant and they struggled to get out of their own half at times, the physicality side of it is so striking we are super aggressive all over the pitch without being really dirty and committing silly fouls.

Johnnie Jackson has really helped to create a galvanising effect around the club, he often talks about how players crawling off the pitch after working so hard should be the normal standard for us and you can really see that in the performances since he has come in. There is a real connection between players and fans, and it would be remarkable if he doesn't get the job permanently.¨
A common theme through each three of these viewpoints is the sizable impact Jackson has had on the motivation of the players and he's also found a system which suits the players to win football matches.
Charlton gave incredible access to his dressing room after beating table-topping Plymouth at home on Saturday. I´d recommend having a look to witness his infectious personality:
Johnnie Jackson post match to his players,
¨What a performance! The running, the working, your pressing, tackling, everything that needs to continue. They are top of the league (and) haven't lost since the opening game. We should have scored more (and) beat them out of sight. That´s credit to you. Everyone. (The lads who) came on, (the players) who didn´t come on encouraging you. Feels good huh? What a team. It can take you anywhere. This place (the Valley), when it's like that, will get behind you and they´ll carry you. Give them a team to be proud of. It all goes hand in hand. We´ll go to Morecambe and win. We´ll go to Shrewsbury, win and we won't stop. ¨
Based on the output, it's clear the players have bought well into the caretaker´s philosophy!
Although against Plymouth, overall they set-up in 3-5-2, the formation switched dramatically in and out of possession. In possession, it often appeared like a 3-3-4 with both wing-backs – Ben Purrington on the left and Diallang Jaiyesimi on the right pushing to either side of their two forwards. Although Charlton would press high to win the ball back early, when Plymouth advanced with controlled possession, those wing backs would slot in either side of the back three.
The flexibility of this formation makes it very powerful. The heat maps, from Wyscout, for both of these players are below. Jaiyesimi's looks like a heat-map for a winger (left hand side), whilst, although there's not many heat spots on Purrington (right hand side), you can see it's fairly evenly distributed down the flank. From watching the game, you could also see Purrington press far up, particularly when Jaiyesmi had the ball on the opposite wing readying for a cross.
A clear strategy from Athletic – particularly from the first half – was to work out the ball to the right and pack the box in anticipation for a Jaiyesimi cross. He put in a staggering sixteen crosses with seven successful. Fourteen of the crosses were in the first half.
If you examine the Jaiyesimi cross above, it illustrates how aggressive Charlton were to pack the box. Both forwards – Conor Washington and Josh Davison – both central midfielders – Elliot Lee and Alex Gilbey are in the box, alongside right wing back Purrington.
.
This exact same occurrence happened repeatedly, so it was very intentional. See another example below.
Jaiyesimi has the added benefit of being a fantastic dribbler and able to cause the opposition wing-back or full back problems. In Saturday's game, he completed an impressive ten of his fourteen dribbles. The Wyscout image below shows these are in adanced wide right areas, where he was making his crosses from too.. He also managed seven interceptions so he doesn't neglect his defensive duties and he is heavily involved in their pressing.
Losing Jayden Stockley through suspension for three games was a blow, but the other two forwards offer a dynamic combination. Josh Davison is a good outletaerielly, whilst Conor Washington provides great movement. He's a tricky character to mark, as he varies running in behind with dropping deep. The 29 year old often switched positions with the central midfielders Lee and Gilby in an intentional ploy to confuse the opposition markers.
Also, we should expect the two forwards to rotate throughout the game to test to concentration of Anthony O´Connor and Ryan Delaney at centre back. They swapped plenty during the game against Plymouth.
Athletic´s Weaknesses
Alex,
¨Striker Jayden Stockley is currently serving a 3 match suspension for a red card picked up at Burton and will be a big miss. The towering target man adds the option to go longer when the addicks are under pressure and thrives on the constant stream of crosses provided by Jaiyesimi. He also plays a key role when defending set pieces, in a Charlton team which otherwise lacks height. Stockley's replacement, Josh Davison, is a willing runner, but simply doesn't offer the same attributes or level or quality.

Morecambe could look to exploit this by trying to press high and pen Charlton in, forcing them into long balls which would be gobbled up by the centre backs. Neither Washington or Davison are capable of winning aerial duels or holding up the ball, though the Shrimps would have to be cautious of the duo's excellent movement and pace to run in behind.

Another concern is fatigue. As mentioned, Jackson demands 100% effort in every game, and the Addicks will not be outworked by anyone. This could take its toll though with League 1's relentless schedule, especially as a number of players have played close to every minute for several weeks. Just days after a frenetic victory over Plymouth Argyle, where several players collapsed to their haunches at the final whistle, will Charlton have enough in the tank to go again at the same intensity?¨
Matt,
¨Gunter at CB last season gave me the shivers and was very error prone. Doesn't look like Jason Pearce will play on Tuesday as he went off injured yesterday but he has a definite weakness against pacey strikers who will repeatedly skin him and force him into mistakes. Tuesday looks like it will be a new back three. Up front you could also argue that we lack a finisher. Washington and Davison are full of running but have a very inconsistent end product.¨
Ollie,
¨I would say in terms of personnel, we have a bit of an injury problem at the back. Ryan Inniss and former Morecambe favourite Sam Lavelle are out with long term injuries, and Pearce going off against Plymouth isn't ideal. While the players that have come in have done an admirable job, Clare and Gunter aren't natural centre backs so there could be a bit of an issue there.

As well as that again whilst Davison has done a great job as stand-in for him, Jayden Stockley is a massive miss and we miss his cutting edge in front of goal, Davison works hard but isn't as deadly.¨
Stockley is a miss and the defensive absences makes Charlton somewhat weaker, but I wanted to draw attention to another potential weakness. In the strengths, Addick's aggression and high press were discussed. What happens when they lose the ball?
As they commit so many men forward, when the opposition win the ball pack there's a vast amount of space to attack.
In this picture below, Charlton cheaply lose possession and Plymouth centre back James Edwards advances with the ball. You can see Charlton's defensive midfielder, George Dobson and two of the three centre backs, Jason Pearce and Akin Famewo, on the far left side of the pitch and Plymouth's central midfielder Ryan Broom calling for the ball in the centre.
Edwards decides to push the ball down the line to forward Jordan Garrick, which the Charlton defence easily deal with. If Edwards had drawn in Dobson, then knocked it off to Broom, Ryan would have had space to run directly at the defence while two of the centre backs would have been caught out wide and out of position, too.
Another example of this occurs when a Jaiyesimi cross is headed clear from the Plymouth defence into the path of Argyle midfielder Ryan Broom.
If Broom can play the pass beyond Charlton´s defensive midfielder to Panutche Camará, the Bissau-Guinean international would have room to drive directly at the back-line.
Broom plays the ball down the line to Garrick. This shot illustrates how much room Camera would have had to run into and shows that Athletic's other two centre backs Pearce (number 6) and Famewo (5) are occupied watching Ryan Hardie. With a pass into the midfield and the initiative to attack with pace from Camera and you would conceivably have a two-on-two situation.
Charlton´s Sean Clare reads the danger and intercepts, breaking down the counter attack.
These were not isolated incidents, so for all The Addick´s intent going forward, if smart decisions are made in transition on the counter, then there is masses of space to drive into.
Opportunities against Athletic
Alex,
¨The Londoners will want to minimize shooting chances for Cole 'the Goal' Stockton in dangerous areas. Namely, anywhere around the halfway line! With the quality and quantity of his goals, the striker has been one of the stories of the EFL season. His threat will be compounded if Charlton captain Jason Pearce is missing. The veteran centre half was forced off with a niggle on Saturday, and is touch-and-go for the fixture at the Mizuma. If he doesn't make it, Stockton may fancy his chances against a makeshift centre back, or 18-year-old Deji Elerewe. The academy graduate is the brightest talent to come through the youth system since Joe Gomez, but is still relatively untested in senior football.

Jackson's extremely attack minded 3-1-4-2 system, whilst most certainly a strength, could also allow opportunities for teams if they can figure out how to exploit it, though this hasn't happened yet. Right wing back Jaiyesimi is a winger/striker by trade and can switch off defensively, often allowing the ball to be slipped between him and the right centre back to an unchecked runner off his blind side. As previously mentioned, there could also be space to break into if Charlton's initial press is beaten, as they do commit large numbers into attack.

The Shrimps may also hope to find some joy from set pieces. It is a Charlton team which lacks height, and relies heavily on the absent Stockley to head corners and free kicks away. If Pearce is also missing, the problem is exacerbated further. Keeper Craig McGillivray, whilst a fine shot stopper, is very timid in terms of leaving his goal to claim aerial balls. Stephen Robinson will surely look to target the Addicks in this way.¨
Matt,
¨If Pearce had been playing I would have said target the defence with pacey strikers! However Famewo and Clare should have enough about them to manage pace and strength up front.

I have to confess I haven't seen a lot of Morecambe this season to know much about your main threats aside from Stockton! If Morecambe are able to close down Dobson and stop him playing then it can stifle our midfield a bit. He thrives from a lot of time on the ball, and when we have less of it (Rotherham at home) and he's pressed more in possession, then he becomes a lot less effective.¨
Ollie,
¨I think as touched on earlier with two of our centre backs not being natural, if you can get Cole Stockton or other strikers to get up and personal with them and get quite physical, it could be a difficult situation for them and one they're not familiar with.

I think another one that I touched on earlier is how the players are feeling physically, if Morecambe can stay the game until the second half, most of our players looked dead on their feet by the end of the Plymouth game, so it maybe a factor if you have a spell of possession we might find it difficult to step up the pitch in order to engage you, and drop quite deep.¨
With the injury to centre back James Pearce on Saturday there's potential for two non-natural centre backs in the back three. Sean Clare, who played right centre back, is traditionally more of a defensive midfielder and Chris Gunter, who replaced Pearce from the bench, has predominantly played right back. If Pearce doesn't start, it's likely that there will be a new look defence who will have players playing out of position. Add to this, with the aggressive nature and potential fatigue mentioned then there is likely to be gaps which open up.
I mentioned in the weaknesses how when they commit men forward, opportunities on the break open up. Plymouth surprisingly often picked the wrong options. It seemed like an off-day for them. However, if Charlton play in a similar expansive style then we can take advantage.
The Shrimps wide players are highly likely to be Jonah Ayunga and Arthur Gnahoua and they are averaging 7.42 (62.5% success rate) and 6.82 (50.4% success rate) dribbles per 90 minutes respectively this season. It is simple, when we win the ball back we must look to pick out these players in the open spaces in the middle of the pitch and drive directly at their defence without delay. If we are hesitant in picking out the pass or we don't utilize their pace, then Charlton will regain their shape and we'll miss out on those three-on-three or two-on-two opportunities.
If Cole can make runs in behind to be available for a pass, he doesn't need an invitation to test their keeper.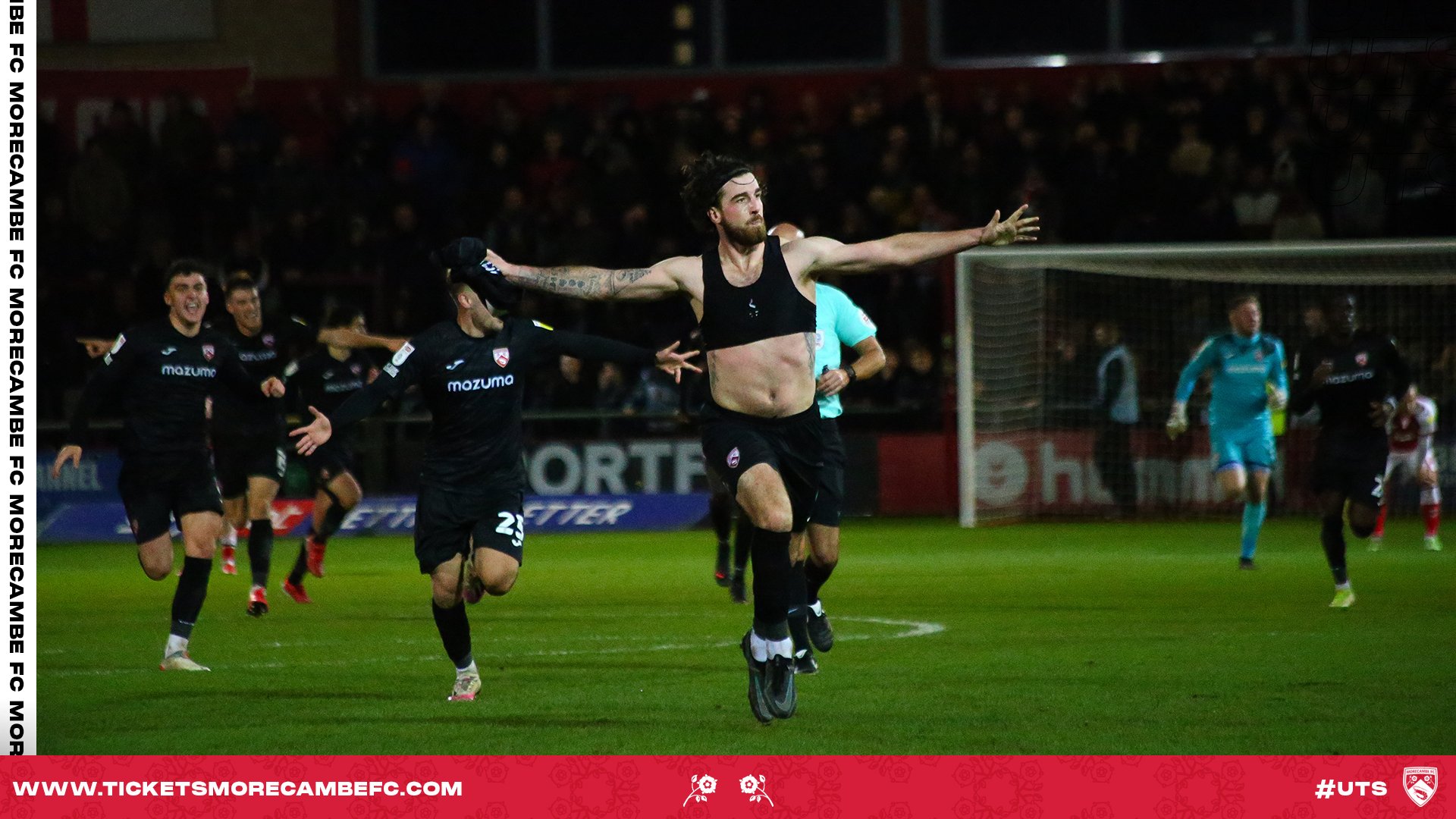 His shot map this season from Wyscout (below) is unbelievable with his 14 goals from 17 League games coming from all angles. It's easy to miss his goal from Saturday, ironically placed above the word 'miss' on the map!
Athletic´s Threats
Alex,
¨As mentioned, Jackson's 3-1-4-2 has got the best from every player he's picked. In the absence of Stockley, Washington is the biggest goal threat. His movement is excellent, and he has a turn of pace to run into the channels or into space behind the defence, though his finishing isn't always convincing.

Jaiyesimi is the right wing back, but is really a winger by trade, and in how he plays. He will stay high and wide, and is excellent at getting the better of his marker with speed and skill. His final ball is inconsistent, but he will deliver a steady stream of crosses from the right. Stockley is exceptional at getting on the end of these, and his absence is a blow to Charlton, but one player Morecambe will have to keep tabs on is left wing back Ben Purrington, who is surprisingly adept at ghosting in the the box to head or tap in deliveries from wide, as he did in the 2019 play off final. The Addicks commit so many numbers to the box that defences can become overloaded, and Purrington is often the spare man to finish at the back post completely unchallenged.

If the hosts are to triumph, they will also have to make plans for Charlton's two 'number 8s' in midfield, Alex Gilbey and Elliot Lee , who provide the perfect blend of athleticism and guile. Former MK Dons Player of the Year Gilbey is a tireless runner and excellent ball carrier who will drive from box to box, while Luton loanee Lee is a fine technician who conjures some wonderful moments of craft and creativity. Both also provide a serious goal threat.¨
Ollie,
¨I think certainly using the width well from our wing backs, Jaiyesimi caused Plymouth's left back all sorts of problems, and I think it could be a situation we try and utilise again. As well as that I think the driving runs forward from midfield from Gilbey can really help the attack get up the pitch, and Lee's passing is outstanding so he can play nice little through balls from the edge of the box or more spectacular balls in behind from further back for Washington who is rapid to run onto. We also seem to have improved a lot from set pieces and have scored from some crafty corner routines in the last couple of games, we have a lot of variety from them so could be a useful tactic.¨
In order to deal with the offensive play from Charlton, The Shrimps will need to be defensively organised out of possession. If Jaiyesimi has the ball wide right and The Addicks are piling in the box, we need to ensure we're at minimum man for man. Our two centre backs will cover their two forwards, Ryan McLoughlin must keep an eye on Purrington drifting in from the far side and two of the midfielders must look out for their central pair wandering into the box.
Greg Leigh will have to marshall Jaiyesimi to attempt to stop his crosses, then the extra midfielder (probably Alfie McCalmont) should stay close to Leigh to stop any potential overloads. George Dobson would be a likely candidate to drop a bit deeper behind Jaiyesmi to be an option for a pass.
In possession playing-out, we must be crisp in our passes between the back line and not overplay the ball unnecessarily. Under Jackson, Charlton play with great energy in their high press and will hound any little error we make at the back.
LET THE BATTLE COMMENCE!
I have to admit, I'm looking forward to this clash. Our guests have painted a picture of an attack-minded team who love to press high and have gained momentum under their present manager. It sounds – to me at least – that they are playing for as much for him as the shirt.
What we need to do is counter the buoyant tide of Charlton pressure and use the space they leave at the back wisely. Both teams have played a lot recently and may flag in the latter stages. When Fleetwood, true to their stats, equalised in the closing stages on Saturday, I thought we'd have to settle for a draw. Luckily, we came back strongly and, wonder goal aside, took the points. It may need a strong finish against the Addicks to do the same.
Lastly, the support from the 1100 plus travelling Shrimps was incredible at Highbury last Saturday, well done to one and all. Getting the Mazuma stadium rocking could be the 12th man to drive us to get a result!
I would like to say huge thank you to detail and insights provided from Alex, Matt and Ollie! Superb effort, lads.
I hope you enjoyed the preview and analysis. If you did, please follow ShrimpsOnline for more news & updates. FEEL FREE TO LEAVE COMMENTS BELOW